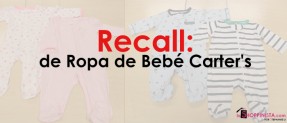 Recall de Ropa de Bebé Carter's – Retiran del mercado
La Comisión de Seguridad de Productos al Consumidor de Estados Unidos anunció el retiro voluntario del mercado de una muda de ropa de dormir con cremallera de la marca Carters por peligro de atragantamiento.
Cabe destacar que vender o intentar vender un producto que ha sido retirado del mercado es ilegal.
Resumen:
Nombre del producto: One-piece footed infant clothing with a zipper
Peligro: La pieza para subir y bajar la cremallera se puede separar, lo que representan un peligro de asfixia para los niños pequeños.
Remedio: Devolución de dinero
Conctato para el consumidor: Carter's, Inc.; 1 – (888) 282-4674 from de 8:00 a.m. a 4:30 p.m. de lunes a viernes. En la Internet: en www.Carters.com en el area de "Product Recalls".
Descripción: En el retiro se incluyen ocho estilos de una sola pieza, de la ropa de algodón con la que los bebés llevan los pies tapados y que tienen una cremallera desde el pie hasta el cuello y se venden en tamaños recién nacidos, 3, 6 y 9 meses. Los estilos son Baby B'gosh, Child of Mine realizados por Carter o por Just One You realizados por Carter tienen el sello de impresión de fábrica en la parte del cuello. El número de estilo está impreso en una etiqueta en el lado lateral.
Marca:             Número de estilo:    Descripción:
Baby B'gosh     414-208                  Amarillo con cuartos de luna y estrellas blancas y grises
Child of Mine    715-839                  Estilo uniforme de baseball con lineas azules y blancas y detalles       en amarillo y la frase :Little Brother" impresa en el pecho.
Just One You    520-242                  Fondo blanco con líneas azul marico y el cuello verde. Se vende       en paquetes de dos.
597B537                 Color azul claro con cangrejos y la frase "Captain Cutie"en la       parte izquierda del pecho.
520-243                   Blanco con unos bizcochitos color rosa impreso. Se vende en       paquetes de dos.
597B538                 Rosa con pequeños puntitos blancos y una conejita vestida de       ballet en el lado izquierdo del pecho.
520-244                  Líneas blancas y verdes con un elefante y un pato en el lado      izquierdo del pecho.
597B539                Blanco con un elefante color gris, un oso color gris, un sapo verde      y un pato amarillo impreso.
Incidentes/Lesiones: No se han reportado
Remedio: Los consumidores tienen que descartar el uso de las piezas inmediatamente y devolver las piezas a Carters para un reembolso total.
Vendidas en: OshKosh B'gosh, Walmart y Target a traves de todo Estados Unidos desde diciembre del 2012 a enero de 2013. El precio flutúa entre $7 y $20.  La ropa de dormir Baby B'gosh también se vendió en www.oshkoshbgosh.com.
Importado por: The William Carter Company, enAtlanta, Georgia
Fabricado en: China
Fuente: PrimeraHora.com